Film Production and Camera Crew Service in Bangladesh || Corporate Videographers & Camera Crew Hire in Bangladesh || Production Services in Bangladesh || Film/video production services in Dhaka || Dhaka Film Crew || Line Producer in Bangladesh || Photography & Videography service provider in Bangladesh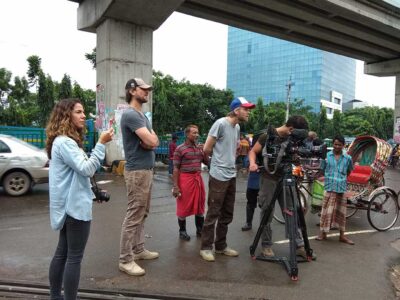 If you wish to film in Bangladesh and are searching for the best fixers to work with around the country, you have arrived at the perfect place!
At Dhaka Films, you'll find a crew that can assist you in obtaining permits, speaks in local languages, a team that has excellent English speaking skills, is capable of conducting in-depth research, is capable of sorting out the logistics, and can arrange for film equipment to be delivered to remote locations – and yes, they can also enjoy a cuppa with you!
Dhaka Films will make sure you have a pleasant time filming in Bangladesh with a team of amazing fixers, researchers, and a specialized logistics crew. Dhaka Films has over ten years of experience working in Bangladesh on international documentaries, branded content, commercials, and photo shoots. Whether you're filming a major series with a top presenter and a large crew, or a two-person crew making a mini-documentary, you'll get the same level of attention to detail, production assistance, and care at Dhaka Films.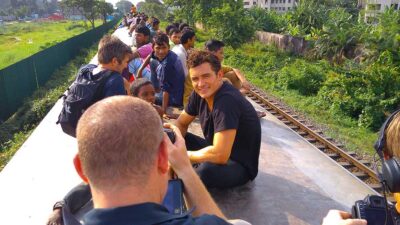 We're delighted to say that after years of working on large and small projects, obs-docs, travel shows, cuisine shows, current affairs, commercials, branded content films, and other pretty crazy crap, we're still thrilled about every project and production that we embark on!
Some of the exciting and acclaimed projects that we have successfully completed are Tales by Light: Season 3 with Orlando Bloom & Simon Lister, In the footsteps of Rabindranath Tagore with Tahsan Khan, Spårlöst with Hans Fahlén, Greener Pastures with Lin Youyi, Innocence Lost with Diana Ser,  Raizen Waes with Tom Waes, Across Borders with Dr. Farish Noor, Get Real with Hoe Yeen Nie, Body Bizarre: Season 4 with Discovery UK, Coke Studio Season 6, MayDay 21 with National Geographic, The Migrant Heroes with Ray Yeh.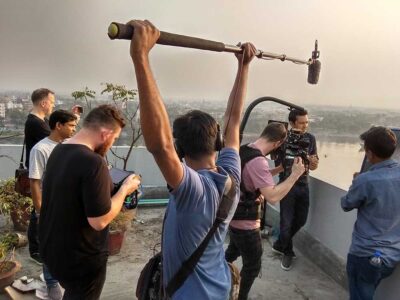 Production Services & Camera Crews in Bangladesh for Film & Photography
Are you a media firm, brand, advertising agency, or Production Company seeking film/photography production assistance or a shooting crew in Bangladesh?
Contact us for reliable fixers, producers, directors, directors of photography, videographers, photographers, and full shooting crews adapted to your project's demands.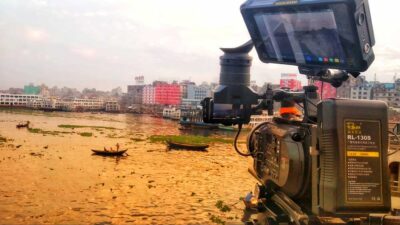 Bangladesh Film Locations
Bangladesh is situated in the low-lying Ganges Delta which makes the country one of the world's most fertile plains, with numerous rivers, lakes, waterfalls, jungles, beautiful green fields, islands, and golden sand beaches.
Bangladesh is also well-known for its bustling cities and Buddhist / Muslim / Hindu / Christian architecture and archaeological sites, as well as floating farms and markets.
Important industrial locations include shipyards and textile Factories. Rice paddies, wheat fields, mango, jute, and tea plantations are significant among the agricultural film locations.
In addition to providing distinctive locations, Bangladesh may easily serve as a stand-in for numerous Indian looks for a fragment of the cost of filming in India.
Notable productions that were partially filmed in Bangladesh are Extraction (2020), Avengers: Age of Ultron (2015), The Amazing Race 21 (2012), The Amazing Race 17 (2010), and Around the World in 80 Days (1956).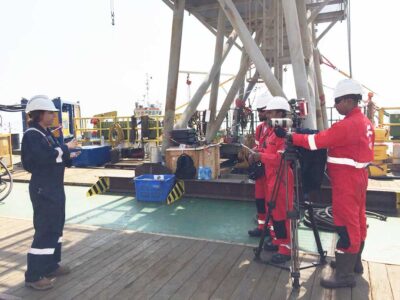 Hire Bangladesh Production Support & Shooting Crew
If you are looking for a film or photographic production service company, line producer, or fixer for your shoot in Bangladesh, please contact us.
If you need a director, DoP, photographer, videographer (cameraman/camera operator), camera assistant (focus puller), sound operator, grip, gaffer, stylist, hair and makeup, PA/runner, production driver, or any other shooting crew for your shoot in Bangladesh, please contact us.
We can swiftly provide you with answers, references, and quotes.